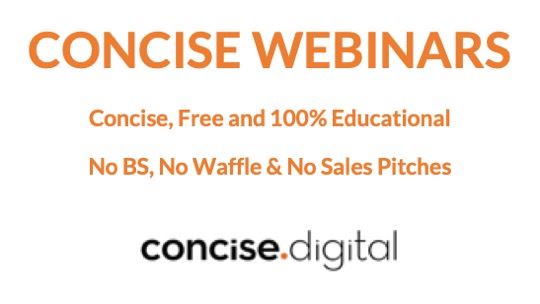 Concise Webinars from Concise Digital
Here's a genuine review from someone who attended one of our recent webinars.

"Delivered what it promised: Concise information without waffling. A refreshing difference to many other webinars where the valuable information is only given after half the time is gone by raving about themselves." (Kerstin Lembke)
Thank you Kerstin, you nailed it.
We believe in educating you...
The digital marketing industry is full of naughty salespeople running around selling products and services to unassuming customers that have ridiculous contracts yet achieve absolutely nothing at all. And we don't like it. We believe this issue comes down to a lack of education and understanding in the market. Rather than ignore the problem, we choose to do something about it.
Your time is precious, and so is ours. The Concise Webinars are concise and 100% educational, without waffle or long sales pitches. These sessions are valuable. We explain key concepts, myths, solutions, tips, trends and handy tools in layman terms. And we guarantee you will always learn something new.
About Concise Digital
At Concise Digital, we help businesses enjoy more success online. We build, host and manage effective business websites, including integrated ecommerce systems. And we plan and manage digital marketing programs to drive sales success and business growth for our clients.
Concise Digital is an Australian-based mid-size digital agency, with a team of 30+ wonderful people across 4 time zones. We're big enough to have strong expertise in different areas, and we're small enough to always care about each and every client.
Preferred website systems include PrestaShop, Shopify, WooCommerce and WordPress. We're experts at complex integrations into accounting and inventory systems, CRMs and more; and we provide Australian website hosting with our own high-performance servers at Amazon AWS.
Digital marketing services include search engine optimization (SEO), search marketing, online advertising, social media, content marketing, email marketing, mobile marketing and local marketing. Our expertise includes Google Ads, Facebook Ads, Google Analytics, Google Maps, Google My Business, Facebook, Instagram, LinkedIn, YouTube and more.